Ubuntu: Korrupte Pakete deinstallieren
Es passierte mir heute das die Installation eines Paketes nicht sauber durchgelaufen ist. Reinstall ging auch nicht und Synaptics sagte mir
The package NAME needs to be reinstalled, but I can't find an archive for it.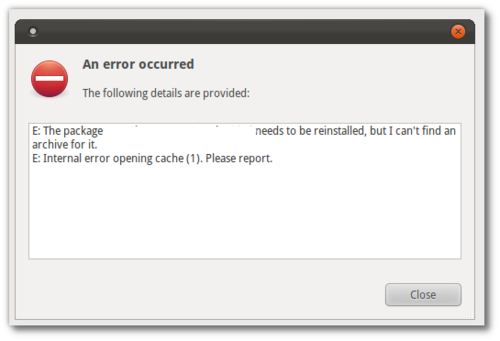 Wahrscheinlich ist das eine Holzhammermethode aber die folgende Zeile hat mein Problem gelöst. Danach konnte ich es noch mal installieren.

/tmp$ sudo dpkg --remove --force-remove-reinstreq NAME
dpkg: warning: overriding problem because --force enabled:
 Package is in a very bad inconsistent state - you should reinstall it before attempting a removal.
(Reading database ...
dpkg: warning: files list file for package `NAME' missing, assuming package has no files currently installed.
(Reading database ... 290638 files and directories currently installed.)
Removing NAME...